An award-winning solution for your lab
MosaiQ by Quotient has been recognized with a 2021 Red Dot Product Design award. The Red Dot Award is the world's most renowned design competition.
The Red Dot Award: Product Design

With a history that dates back more than 60 years, the Red Dot Award is an international competition offering designers and manufacturers from across the globe the chance to distinguish their business activities through design. Whether aesthetically appealing, functional, smart or innovative, what the award-winning objects have in common is their outstanding design quality. Quotient has been recognized with a 2021 Red Dot Product Design Award for the full MosaiQ™ by Quotient system.
Trio of innovations
The MosaiQ System is powered by a trio of innovations developed by the immunohematology experts at Quotient.
Microscopic Printing
MosaiQ Microarray
Multimodal
MosaiQ Instrument
Photometric Immunoassay
MosaiQ Reaction
Microscopic Printing
This novel idea was inspired by microarray technology and combines biochemistry principles with microchip design from the semiconductor industry. The innovative design saves biological and testing resources, as each microarray can be printed with up to 132 biologic spots enabling multiplex results.
Multimodal
The instrument is designed to hold up to four different types of MosaiQ Magazines at once, which would allow for one sample to be tested across different modalities. Well-characterized blood typing and serological and molecular disease screening will be possible with a single tube of blood.
Photometric Immunoassay
This unique reaction uses the direct method for antigen detection and the indirect method for antibody detection. A precise wavelength of light illuminates the spots on the microarray and the high-resolution camera detects results via dark field imaging. An automated algorithm then displays easily readable results on the graphical user interface.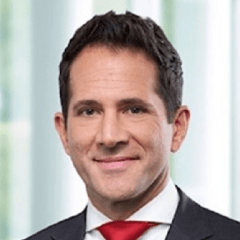 Manuel O. Mendez, Chief Executive Officer of Quotient
We are honored to receive international recognition in the form of this prestigious award. This stands as a testament to our partners' and our team's creativity and design efforts throughout the years.
The MosaiQ System is designed to provide labs with multimodal, multiplexing walkaway testing. Its three core components, the instrument, microarray and reaction, work together to power the trio of innovations.
Microscopic printing delivers multiplexed results after the microarray undergoes the photometric immunoassay. The flexibility of the instrument and reaction enables multimodality for the same sample.

Further supporting the technology are system liquids and software, including MosaiQ LinQ™, which allows the system to connect directly to the laboratory information system. Laboratory staff are also supported by UniQ, the comprehensive training program delivering theory and competency assessments for audit requirements.
MosaiQ Microarrays are comprised of two microscopically printed glass panels, encased in a small plastic housing. In the example of immunohematology donor assays, each microarray has an antigen detection panel printed with IgG and IgM antibodies and an antibody detection panel printed with well-characterized red blood cells.
A photometric immunoassay, known as the MosaiQ Reaction, occurs after a few short steps, producing an image for the instrument to analyze, and providing the user with easy-to-read results, with no need for interpretation.
24 SECONDS
Results are provided every 24 seconds after the first result.
FUTURE LAB FLEXIBILITY
Quotient is continually working on developing the system's capabilities by expanding the menus available and seeking further approvals for additional immunoassays, including in the area of molecular diagnostics.
Multiplexing, multimodal test results for each sample are delivered every 24 seconds via the MosaiQ Instrument or through the bi-directional laboratory information system interface. The innovations combine to process up to 3,000 microarrays per instrument per day.
To learn more, email us at MosaiQEnquiries@quotientbd.com. Menus and capabilities are subject to change. Not all methods may be available in all territories. Subject to regulatory clearance.